Tripawds is a user-supported community. Thank you for your support!
I had lost the use of my back end and was crying a lot in spite of all the drugs. Mommy had to make the horrible decision. We were both very scared, as well as Shawn, but now I am able to run and play with my boyfriend, Diesel. I got to meet my sister, Tiffany and all the other pets at the bridge. I promised Mommy that I wouldn't chase, Bob, Rollo, JR, Charvel, Morty and Theo.
When we got to the vet Mommy told the vet that we needed to put me to sleep because I have been crying every night. Well, Mommy needs to be put to sleep, too, because she cries every night, too, lately. I had never met Dr. Vicente before, but he remembered my cat brother, Theophilus from like 20 years ago. Dr. Vicente was really nice and took great care of me in my final moments. My regular vet, Dr. Andrews wouldn't be back to work until Wednesday, and I just couldn't wait that long. Plus, Mommy knows that Dr. Andrews has a dog with cancer, too. She didn't want Dr. Andrews to be upset.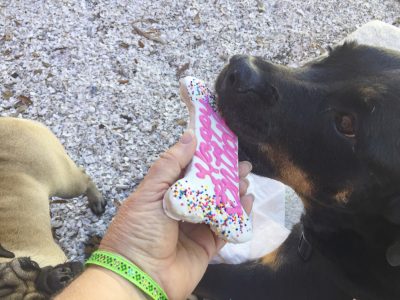 Yesterday we had a birthday party, because I would have turned 9 on Wednesday. Lots of friends stopped by and I got to eat McDonald's, Hot Dogs, Cookies and Mom cooked me a Steak for dinner last night. Of course there were lots of furry friends at my party. At one point they were all running around, chasing each other. I really wanted to join in, but my back end didn't work.
I had a good life up until the cancer. I have been on a paddleboard, and I've been hiking and camping and to the dog beach more times than I can count. At one time I lived on the water and I got to chase a dolphin. No joke! Of course, I wound up falling in and that wasn't so good. Dolphin was my favorite word, followed closely by McDonald's, Kitty and Shawn.
Mommy and Shawn are very sad, but I know Mommy will get another dog. Next time she's going to adopt, not buy. I'm glad she bought me, though.
I'd better go…. Tiffany and Diesel are calling me. We are going to chase rabbits. It's so much fun being able to run again.
Peace Out…. Belle