Tripawds is a user-supported community. Thank you for your support!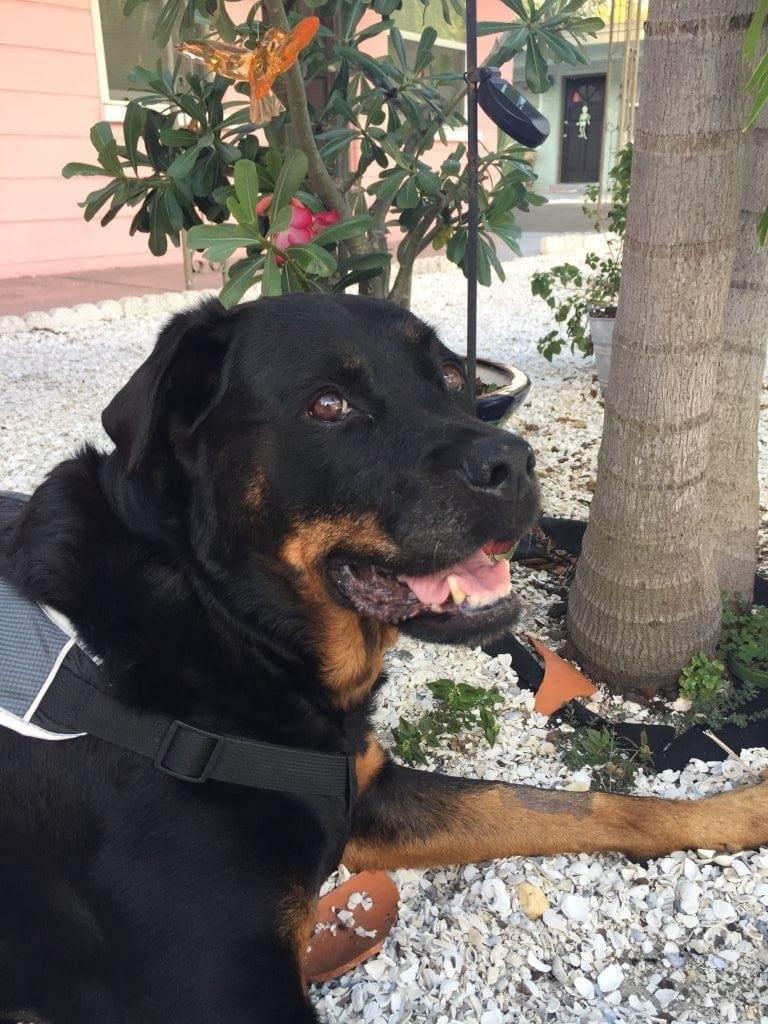 I am feeling a lot better! The doctor said that I can't have any fat or salt, so Mommy was trying to force feed me all sorts of stuff that I didn't like. Finally, my Aunt Karen took Mommy to Save-A-Lot and bought chicken tenders. Mommy baked them and I started eating them. That was Saturday. I only eat a couple at a time, but Mommy and Uncle Shawn make sure I eat many times a day. Once I started eating those things, I started feeling better.
So here's what has happened in the last week: I came home from the surgery vet, where I had stayed for 5 days on fluids and IV antibiotics, last Monday. That vet is nearly an hour's drive from our apartment, so when I still wasn't doing so great, Mommy and Uncle Shawn took me to my regular vet on Thursday. She took blood and everything was improving except my creatinine, so she sent me home with subcutaneous fluids. She said absolutely no fatty or salty foods, because I could get pancreatitis, and that would be the end of me. I would not eat the K/D or I/D food that she sent home with us, so Mommy got baby food and a big syringe and squirted that gross stuff down my throat. I wasn't too happy about it, but I was too weak to fight. Previously, I hadn't wanted to eat chicken, but Aunt Karen convinced Mommy to get those chicken tenders and Mommy baked them instead of boiling them. I like them baked! So I started eating and I was getting fluids every day. Today, Monday, was my last day of fluids. I'm glad, because I don't like when Mommy sticks me with the needle.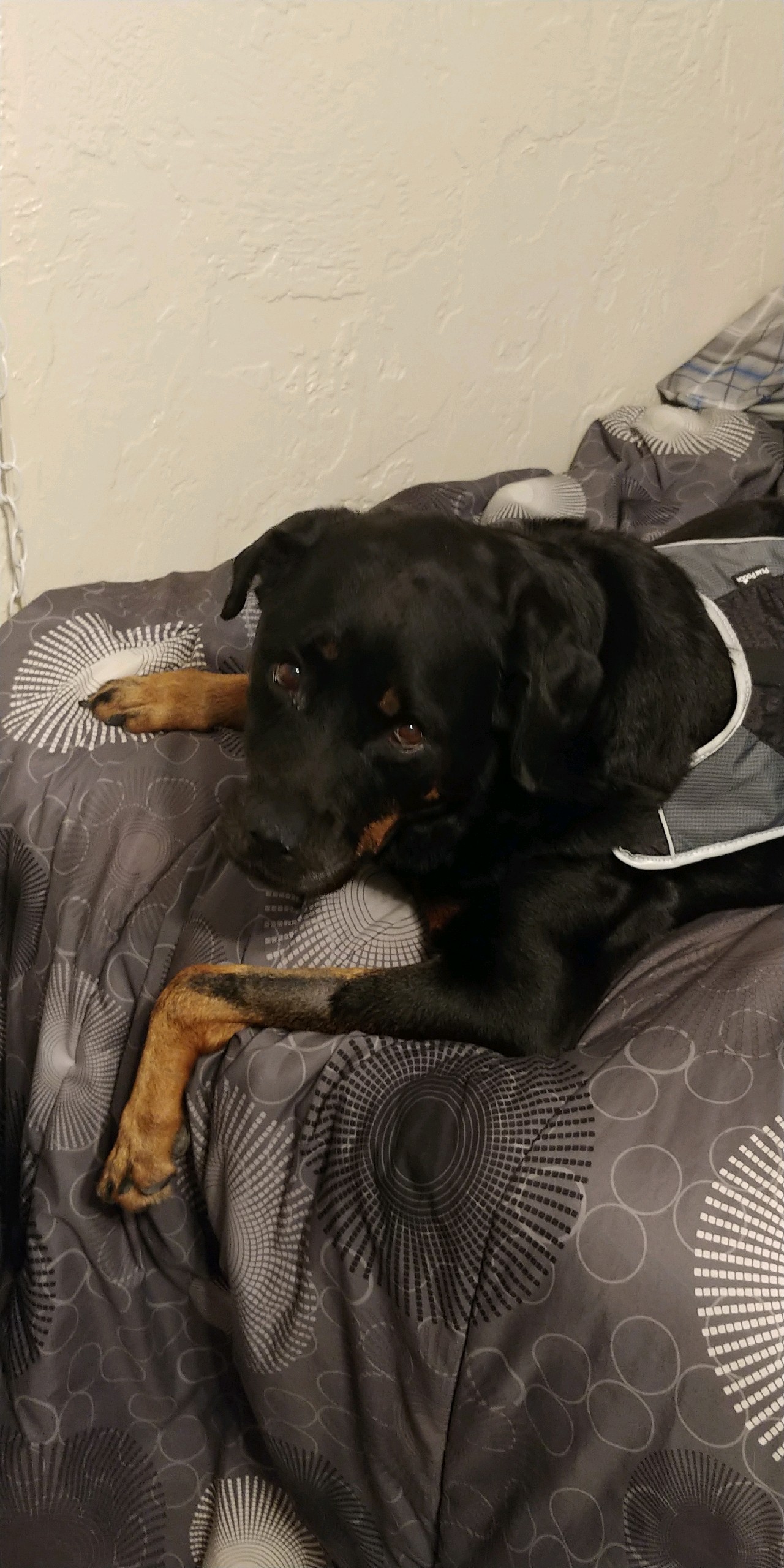 Here's a photo of when I climbed into Uncle Shawn's be when he left me alone for a few minutes. This was on Friday, before I started eating on my own. I was still a little down and out on that day, but not so down and out that I couldn't climb up on Shawn's bed. Did I mention that I LOVE Shawn? He's my boyfriend. I'm so glad that we moved to this apartment complex where Shawn lives. He takes care of all of the dogs, but I know he secretly loves me best.
Now I'm feeling good enough to snarl at Mommy when she gives me my pills. She says that there are only 2 1/2 days worth of pills left…. Yay!!!
So, I'm eating, walking, using the bathroom like I should and snarling when I don't like something…. I'm getting back to normal.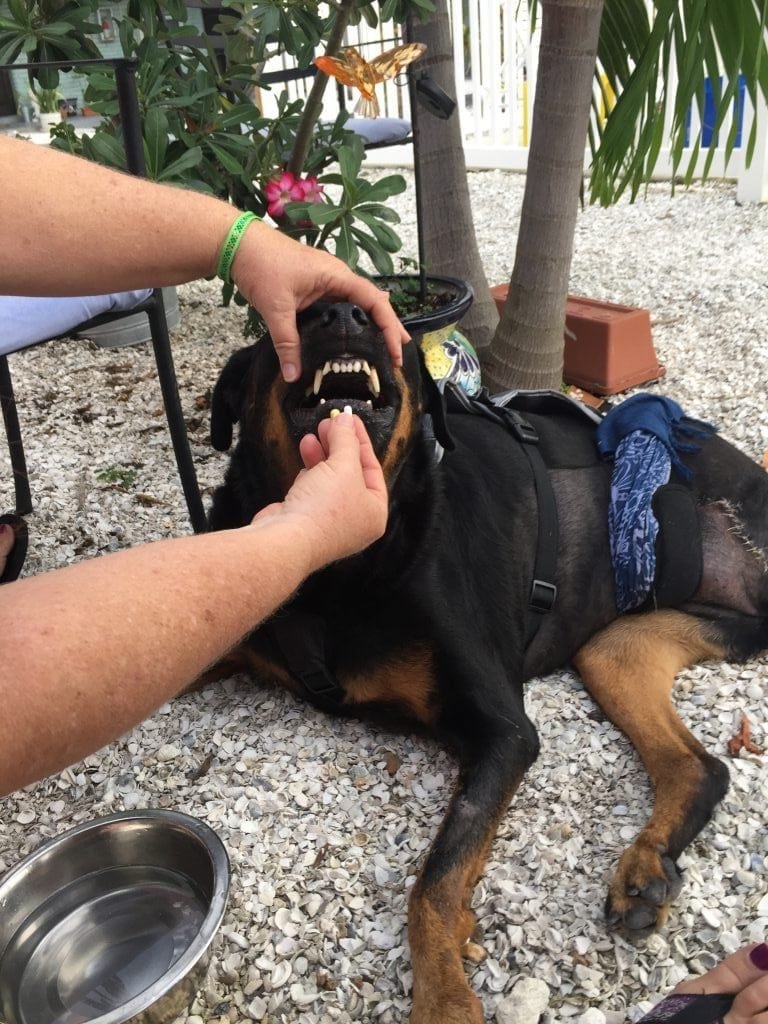 Here's a photo of me being a sassy bitch (yes, I'm a girl dog) about my medicine.
Oh, I almost forgot…. the vet told Mommy to use a beach towel to help me walk, but Mommy ran out of clean beach towels, so she used a sarong. It's much better. First, it's more stylish than a towel, second, it is thin enough that it can be tied loosely around my waist, so it's there when someone needs to help me out. Honestly, I like to get up and walk around without help, especially if I need to go poop, ya know what I mean?