Tripawds is a user-supported community. Thank you for your support!
While Mommy is at work, I hang out with Uncle Shawn. Today, I went to the gate (we live in a gated apartment complex, yes, an apartment complex that rents to Rotties) and started barking. Uncle Shawn took me out and let me walk with no help. I had to take a few breaks, but I went up to the regular spot where we turn around and back. When Mommy got home from work, we decided to bring my sarong (they help lift my hiney with the sarong) and walk down to my friend, Moki's apartment and back. Moki's is about twice as far down the block as we have been going. Right when Mommy was texting Auntie Kay, she and Moki came out for a walk. Moki is a young, energetic guy, so Auntie Kay put him back in the apartment, so he wouldn't overwhelm me. Mommy, Auntie Kay and Uncle Shawn hung out for a while and petted me and scratched my belly before we headed back home. I had to use the sarong on the way home, but Mommy thinks it may be more about me being a stubborn Rotti, than my ability to walk. I don't like going home. That's where they give me pills, sub-q fluids and shoot baby food into my throat. I'm not on fluids and I'm eating on my own, so really, the only torture I'm getting is a couple of pills a day, but I'm still stubborn.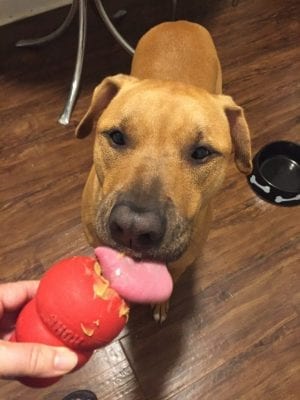 Here's a photo of Moki. He likes peanut butter in his Kong.
Tomorrow I go for my checkup. Keep your fingers crossed that my creatinine is back to normal! Also, I think that Mommy and Uncle Shawn are going to get some PVC and make me a wheelchair tomorrow. It's just for temporary and maybe for longer walks in the future. I plan on being Queen of the Block soon. Give me a few days and we will walk down to JJ's. JJ is a Rotti, too.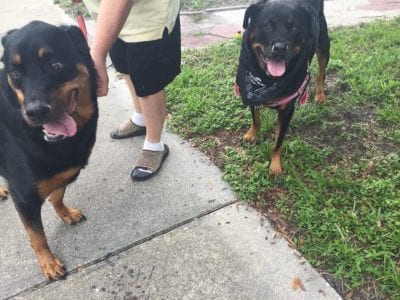 Here's a photo of JJ and I. She's a big girl, too. She's taller than me, and I'm pretty tall. She lives half way around my block. I have a very cool block. There's Moki, JJ and Waylon, who are dogs. There'e PK, which is short for Porch Kitty. She doesn't like me, but I like her. Then there are lots of cool people, like Auntie Annie, Auntie Kay (Moki's mom), Auntie Cindy, Uncle Robert, Uncle David (JJ's dad) and Auntie Dina (Waylon's mom). I can't wait to start walking around the block again!